The trend towards sustainability has also become a must for pharmaceutical and healthcare packaging. Packaging for pharmaceuticals and healthcare products must not only meet the requirements of consumers, pharmacists and medical professionals, but also protect the environment.
Therefore, the European Green Deal requires that as early as 2030, the 27 EU member states have reduced their greenhouse gas emissions to a level that is at least 55 percent below the 1990 level. By 2050, the countries are obliged by the European Green Deal to become climate neutral.
These requirements increase the pressure on companies and embed sustainability in all EU policies and sectors. In addition, global trends are driving worldwide demand for renewable resources.
All these challenges offer an enormous opportunity: with our many years of experience, we would like to accompany you on the path to a climate-neutral value chain.
We at Faller Packaging take our responsibility seriously and offer you targeted advice on sustainable pharmaceutical packaging with our Sustainable Packaging Service.
Together we work on your challenges and find the right solution for you!
Our packaging concept is based on a holistic approach that takes into account the entire life cycle of the packaging materials along the entire value chain, whether folding carton, adhesive label or package insert.
At Faller, you get everything from a single source: starting with product development by our experienced development engineers, through production, to transport and storage with an optimised and digitalised supply chain.
We accompany you on your way to a climate-neutral and sustainable future and actively support you in reducing your carbon footprint.
Our Sustainability Team wants to understand your individual challenges and pain points in an initial meeting. Together we identify possible solutions and the scope of the project, in line with your corporate strategy.
Target:
Background of the EU Green Deal and other important regulations.
Brief presentation of the fields of action: Materials, constructions, recyclability, climate-neutral value chain, digital supply chain, etc.
Checklist to identify the scope of the project
With our 360° WORKSHOP, we help you to break down a complex topic in an understandable way and to find sustainable products and processes for you. Together we analyse your individual requirements in detail with concrete proposals for measures.
We accompany you with a holistic approach from theory to practice and develop together with you the optimal secondary packaging materials for you, including the technical, legal and recycling-relevant requirements. In doing so, we are guided by the 3-R principles of "Rethink", "Reduce" and "Recycle".
Target:
Practical knowledge for decision-makers, entrepreneurs, managers, buyers, packaging developers, supply chain managers and all those involved in the topic.
Concrete solution approaches for the development of sustainable packaging materials
Development of environmentally friendly and resource-saving secondary packaging that improves the CO2 footprint
Setting the course for a closed loop system
Impact-oriented project management and expert advice pave the way to a Sustainable Packaging solution. Through an interdisciplinary team, we create synergy effects and can develop and implement optimal processes and products for you.
Target:
Advice on specific issues related to sustainable secondary packaging.
Interdisciplinary development and consulting team of Faller experts accompanies the project
Orientation, structure and a coordinated approach
Packaging experts take care of your needs. You can continue to focus on your original area of expertise
Packaging analysis with concrete proposals for action
Optimal packaging concept in line with the EU Green Deal
Individual design of the project scope
Improvement of your carbon footprint through compliance with and implementation of environmentally friendly measures along the entire product life cycle
Working together with partners and suppliers on a climate-neutral value chain
When is secondary packaging sustainable?
"Eco friendly packaging"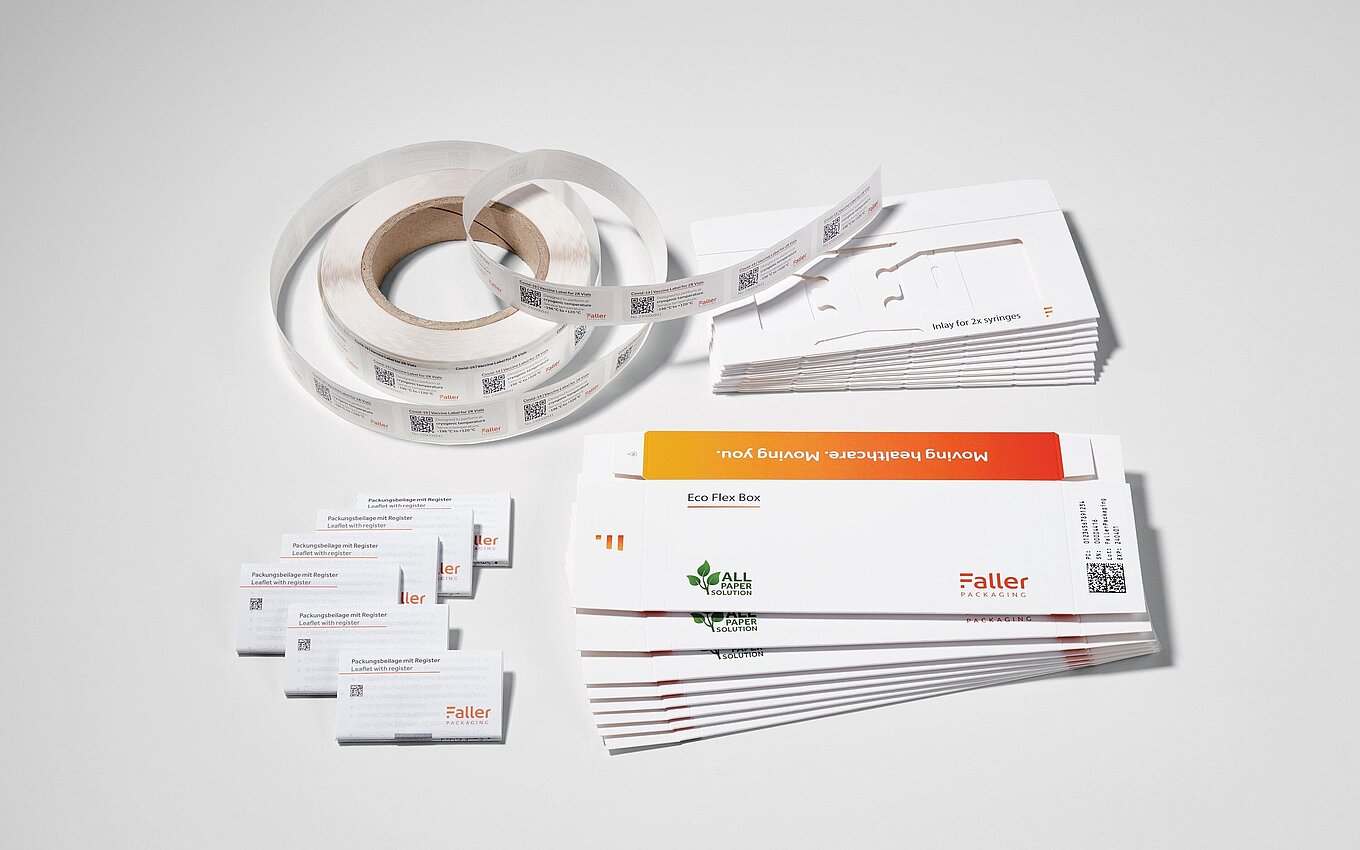 When is secondary packaging sustainable?
"Eco friendly packaging"
made from renewable, sustainable raw materials or recycled materials
biodegradable
future-proof for people and the environment
easily recyclable
energy-efficient manufacturing processes with minimal/neutral CO2 emissions
Download our white paper "sustainable secondary packaging" now and learn more about the individual components of a packaging concept that meets the requirements of tomorrow!